Find your trip
Time available
Water action
Water Comfort
Energy levels
Our little Island nation is made up of 41 islands and cays. Only 9 are inhabited. With no roads connecting these islands the only way to really explore our country is by boat. The best times in the islands are days spent cruising on the turquoise seas while exploring the plethora of secluded beaches, coves and reefs in this amazing archipelago with family and friends. The options and experiences available are boundless.
There are so many places to visit and explore, enough to keep you coming back for years to come and certainly more than enough to have kept us excited for over the last two decades. From two-hour excursions and half day cruises to full day adventures, we love to get out there and show you the best of the TCI. Throw in some snorkeling, freediving, scuba, paddling or kiting and the sheer variety of things to do will only ever leave you wanting more.

Private & Custom Charters
We offer the widest range of private and custom boating charters in the Turks & Caicos Islands with options for every group size, destination, activity and budget. Every day is different and every trip is unique.
Choose from our selection of chilled out two hour, half day or full day boat rides to amazing reefs, beaches and islands. Enjoy an ocean sunset, cocktail in hand, or get out early on a full day to explore and adventure beyond the horizon. Whatever floats your boat, we have you covered with first class, guides, captains, crew and gear while also providing you with delicious food and drinks on the most versatile fleet of premium, small group luxury adventure boats in the Islands.
Depending on your group size, desire and destination we have the right boat fit for the occasion, event or mission.
Half day, Full day or Sunset trips
Choices, choices, choices. Truth is it all depends on how much time you have, where you want to go and what you want to see. While all our half day charters must leave on time due to scheduling, full day charters empower you with the flexibility to start and leave as you please.
We run half day trips every morning and afternoon and divide them into 4-hour slots (am 8-12 and pm 1-5).
Full day trips have a massive 9 hour window from 8am – 5pm allowing time for a relaxed 6 hours on the North Shore or a full 7-9 hours on the South Side. Enjoy extended destinations or simply super chilled out days with no rush at all. Departure times are flexible.
Sunset trips run for a 2-3 hour period over sunset, somewhere between 5pm-7pm. Start and end times varies depending on the time of year. The cool thing is if available you can extend both the full day trip and the afternoon half day trip into the sunset. After an amazing day on the water, many of our guests don't want to go back and you don't always have to. Just ask the captain and crew and if possible you can extend you time on the boat to enjoy your cocktails on the water as the sun goes down.
Destinations & Private Boat Charter Options

With dozens of islands to choose from where do you start? Our charter menu serves as a guide and listed below are our most popular and favorite destinations. Your time is very often the deciding factor.
Families and groups with smaller children are often better off staying close to home opting for half day charters on the North Shores. Our return guests, divers and adventurers typically allow us to choose full day destinations for them depending on conditions and wishes. Read through and let us know which one calls to you.
Sunset (mellow 2 – 3 hours)
Tropical sunsets are some of the best. Even more so when on a boat, chilling and enjoying the cocktail hour. We offer sunset trips every day. They can be added onto an afternoon charter of extend a full day boating adventure. Highly recommended on any of our boats.
From $1095
North Shore (chill 4 or 6 hours)
The Caicos Cays of the North Shore are almost always protected. Lined by stunning beaches of Big Water Cay, the famous Half Moon Bay and Fort George. You don't have to go far to enjoy the magic of our islands or our reefs. Ideal for families and persons not super comfortable far from shore or home. Both our half day and full day charters are excellent choices on all our vessels.
From $1495
South Side (adventurous 7-8 hours)
The South Side is magical. Full day trips to West Caicos and French Cay continue to deliver some of our best trips and experiences. From caves, to coves, to cliff jumping, to excellent wall diving and remote snorkel reefs as well as open ocean dolphin encounters. Our full day boat adventures are steeped heavily in our 20-year history. Join us! Live & Direct and Serenity are made for such days, as are the two smaller cats, Lady T and Little Chill.
From $2795
Extended (intrepid ALL DAY!)
Our knowledge and experience can also get you miles off the beaten path where no one else goes. Off the radar, out of range to some absolutely magical locations in the far reaches of the Caicos Banks. Experience the remote and stunning solitude of South Caicos, East Caicos and the Ambergris and Seal Cays like no other. These are our true waterborne adventures. Please contact us by phone or email as these trips require more planning.
From $3400
We provide beach pick-ups and pick-ups from private docks. There are however, many factors we have to consider; the sea state, the tide, the boat, the destination and your safety. Some areas are better suited to this than others, Grace Bay being a case in point. If we already have all your gear and sizing requirements it can be easy.

Sometimes we can't provide a pick up but can offer a drop off as conditions change over the day. The opposite is also true. Please ask and we will do our best. Bare in mind our dock is absolutely ideal for loading and commonly the simplest way to start the day.
We provide all sorts of gear on our boating trips. Most importantly we provide you with complimentary snorkel gear made by the best in the business – Cressi.
Masks and snorkels are on the boats, fins you try on before we leave the dock. We have subwings hidden away to use on special days and on our full day trips we commonly break out our inflatable paddleboards, ideal for exploring and children.
First in, Last out
Our trips leave earlier than most and for good reason. More often than not the weather and the sea are calmer in the early morning, which means good boat rides if we are covering distance on our longer days out. It also means more time out where you want to be. For those trips closer to home it means we beat the boat traffic and their larger groups. Trust us when we say there is nothing better than having the snorkel reef to yourselves. The same goes for the beaches. Rather than rush you back, we try and make sure you squeeze every last drop out of your day on the water.
Private vs Public
Which one is better? – It is a question we get asked a lot.
Our public trips are scheduled. They leave at a certain time and happen on certain days. Of course if our schedule fits in with yours and there is space then a public trip is always a good option. We still run small groups, we leave as early as possible and don't rush the program or you.
The benefit of going private is that the boat is exclusively yours for the duration of the charter, half day or full day. With that exclusivity comes flexibility, privacy and intimacy. The captains and guides are at your service offering the best advice and options depending on what you have planned to do. You are with your family and friends and you can either let the crew run the trip while you relax or play an active role in deciding what to do next. This flexibility is especially beneficial on our full day boating charters.
If you want to experience the best of Big Blue and the TCI – go private.
Sea Conditions
Weather and sea state play a huge role in determining where we can take you. Most of the time we can go exactly where you hope to go. Sometimes we are not able to do so and we have to make decisions to best accommodate your needs, safety and conditions.
We will always inform you of changes to schedule or destination. We give you as much information as possible to help make those choices with the aim of getting you out there safely. If we have to cancel it is always a last resort.
Our aim is to make it happen and very often the weather in one place is totally different in another.
We have a fantastic fleet of beautiful vessels. Probably the most well rounded modern fleet on the water in the TCI. From 30' all the way to 48' our 6 vessels define luxury, comfort and practicality. Whether you are a small group or a large group we have got you covered.
Most importantly we have a team of captains and guides who are able to take you on boats to places almost anywhere on the Caicos Banks.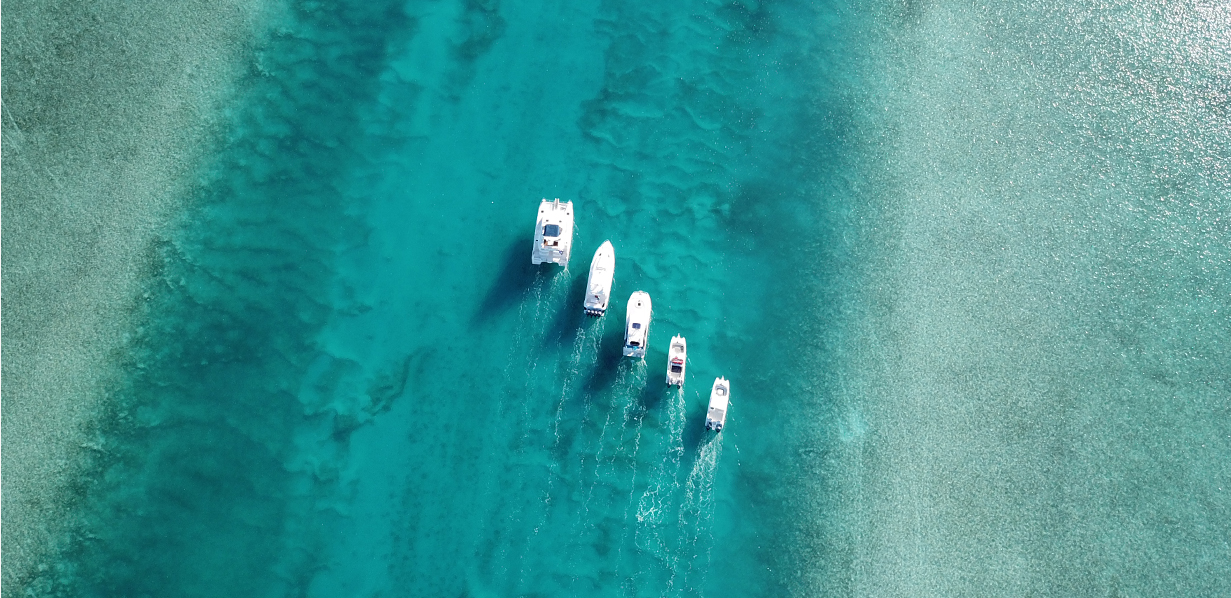 What to bring and what to wear
Mask, fins & snorkel
We provide them (cressi), you can always bring your own

Wetsuits
Sometimes a good idea in winter,
we also can offer these
before departure

Rashguards
Excellent sun protection, more reliable than sunscreen as you don't have to reapply. We sell these

Sun screen
highly recommended but it must be 100% bio degradeable. We do sell an excellent variety

Hat
A hat is always a good idea
when on the ocean

Sunglasses
sunglasses are also very useful in the tropical glare
Water
Drink lots and stay hydrated.
We provide water
Camera
Is of course a great way to
capture the magic.
Gopros rock!

Towel
You can't have
enough of them.
Clothing
A long sleeve top to keep you warm is always a good idea after a long day on the boat